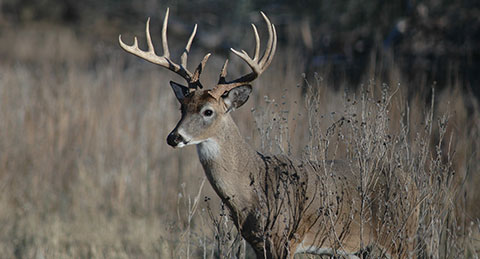 The San Diego backcountry offers many hunting opportunities to choose from. Please be aware that these areas are actively patrolled by rangers and poachers will be prosecuted to the full extend of the law. You must have a valid hunting license and adhere to all hunting laws as prescribed by the California Department of Fish and Wildlife. We have a zero tolerance policy for poaching and illegal hunting activities.
Hunting is not allowed anywhere in the State Park. Seosonal Duck hunting is offered at Lake Cuyamaca in the winter months by reservation only. Hunting is permitted in the Cleveland National Forest in accordance with hunting regulations set forth by the California Department of Fish and Wildlife. You can hunt with a firearm in the Cleveland National Forest except within the boundaries of the Laguna Mountain Recreation Area. Only bow hunting is allowed in the Laguna Mountain Recreation Area.
Hunting is traditionally a solitary sport that requires a lot of roughing it out. We want to change that. Our glamping sites are located near some of the best hunting sites in the backcountry so you can bring along the family. Our camouflaged hammocks can be used as blinds and deployed at any location including high up in the trees. They also serves as a comfortable resting area during your hunting outing.
Our company co-founder Rami Abdel is an avid hunter and spent many of his young years on the hunting trail with his father. A lot of his love and appreciation for nature stemmed from those experiences he had as a child. He only hunts what he'll eat and has many years experience as a hunter and game tracker. As he grew older, he was disappointed to find that it was getting harder and harder to keep this tradition alive. Hunting laws and regulations, although necessary, have also restricted the sport and made it much more challenging than it used to be. Hunting already requires a lot of reconnaissance work and prepping to ensure a successful trip, as well as waiting hours for a deer to hopefully cross your path. The process can seem very cumbersome and confusing, especially for first time hunters trying to learn the sport.
With such busy and fast paced lifestyles it was getting harder and harder to get out hunting. Rami also loved spending all his free time with his wife and family and wanted to find a way to have them nearby also enjoying the outdoors during his hunting trips.
That's where a lot of the inspiration for the hunting retreats came from. We take a lot of the hassle out of the process and position you in areas where you're most likely to catch a deer. Our team knows this area very well and take care of all of the scouting for you. We create strategic hunting blinds and outposts with our tree tents that bring a new dimension to the hunting experience.