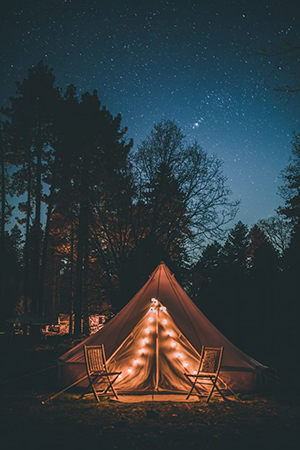 Welcome to Alter Experiences & thank you for supporting our efforts towards sustainable tourism development in San Diego. By visiting Alter Experiences LLC & the Central Mountain region, you're already making a positive environmental choice in destination. We need the help of our visitors to conserve and protect the natural resources of the region.
We have multiple affiliate locations in Julian, Laguna Mountain & the Lake Cuyamaca area. Where you'll be staying will depend on many factors including; accommodation style, season, groups size, etc. Many factors come into play for us to deliver this one of a kind outdoor hospitality experience. Our primary sites are in the Cleveland National Forest - Mount Laguna Recreation Area. All of sites are within the general vicinity of Lake Cuyamaca - Julian - Laguna Mountain region.
Each one of our sites has been handpicked with various factors taken into consideration. We strive to create the most nature immersive experiences possible, in areas that are rich in wildlife and bio-diversity. Our minimal impact concept ensures that we're using these spaces sustainably. Facilities & amenities such as restrooms are standard across our multiple sites including flush, compost or chemical toilet, as well as showers.
Our sites are located in the San Diego Central Mountain regions, which are remote mountainous areas at elevations of 5,000+ feet. The drive up HWY 79 is windy road & encounters with wildlife such as Deer, Turkey & even Coyote are common along the route. The region is very unique in that it's located at the geographic center of San Diego. The drive should take just over an hour from anywhere in San Diego county.
Your exact site location will be provided upon booking confirmation. One of our team members will be in touch with you and give you an in-depth briefing about our site, location, accommodations, local attractions and safety.
At Alter Experiences, we believe that every booking is new and unique. We look forward to exceeding your expectations and tailoring an outdoor hospitality experience specific to your group needs. We strive to create nature immersive, meaningful and hassle free experiences in the outdoors.
Please be aware of the following:
Mobile phone & internet service are limited in certain areas for most providers.
Have a map or directions printed out. Don't count on GPS to be working and it may even take you to a wrong location.
Make sure your vehicle is in good operating conditions. Have a full tank of gas. We have no gas stations except in Julian town & Descanso.
Chains may be necessary in the winter.
Check the weather forecast regularly if you're coming in winter (Nov-Feb) Leave as early as possible & drive carefully.
Arrival
Check-in: 3pm
Check-out: 11pm
One of our hosts will also be on site to greet you upon arrival and give you a site briefing. Please be aware that some of our sites are located in remote areas. It may be difficult to locate if you're arriving at night. Please come prepared. Look up the directions ahead of time and give yourself time to get here. Cell and GPS signal are not always working. It's understandable if you can't make it early but we ask that you try to arrive by 5pm. Please also let us know when you're an hour away so that we can prepare our team to meet you there. It will also help us anticipate your ETA, so if you get lost our team member can come out and meet you on the road. Very important !!!!
Accommodations - Tree Tent and Bell Tent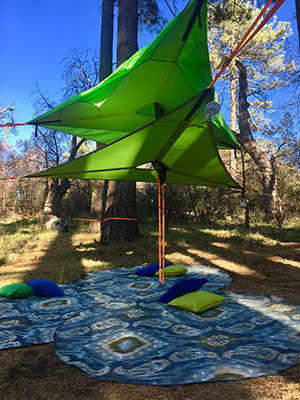 Tree Tent by Tentsile
Our suspended tree tent called a "Tentsile" is our most popular accommodation. We create a living space suspended between the trees at about 5-6 feet of the ground. For families with children, we'll usually position our tree tents closer to the ground for safety. A ladder or foot stool are provided to climb in & out. These tree tents are safe & comfortable, built with 190D and 240D polyester & secured to the trees by 2.5 tonne webbing straps.
Your site for 6-8 people will come with any combination of 3-4 tree tents:
 - The Stingray accommodates 3 adults (max 880lbs)
 - The Connect accommodates 2 adults (max 880lbs)
 - The Flite accommodates 1 adult or two small children (max 485lbs)
A sleeping pad will also be provided per person along with sleeping bags, pillow an liner. We provide 2 person sleeping bag for couples in the Connect. Each tree tent also comes with portable light & clips for hanging your belongings.
Our tree tents are firm and cozy and allow us to create comfortable "suspended" spaces in the most remote of areas. Your tree tent comes with a rain proof cover, which can be removed to sleep under the stars. The tree tent is enclosed with mesh netting to keep out bugs and critters We also provide a Tentsile hammock to lounge on. We can stack the tree tents to create a multi-level accommodation space. This is especially fun for children and families that want to share a tree tent together.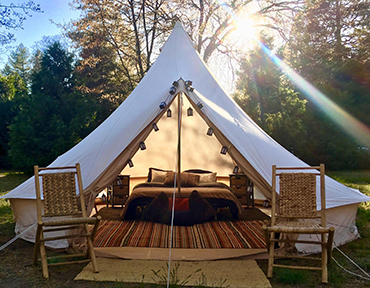 Stout Bell Tent
Our plush and comfortable bell tent was designed with the ultimate comfort in mind! It comes with therapeutic mattress, pillows, linens, comforter, bedside tables, plush floor rugs & pillows, ambient lighting, and can fit up to 4 people comfortably. It's ideal for families or couples looking for a romantic get away.
A portable propane buddy heater is also provided, which is safe for kids and keeps the inside warm and cozy in the cold winter nights. Highest quality mesh screen door and windows lets you open the tent for a breeze or a view without worrying about bugs or critters. The conical shape deflects wind and leaves no place for rain or snow to gather. No sweat canvas keeps water and condensation out.
You'll have wood fire pits or propane pits depending on where you're staying. Propane will be provided & wood must be purchased on site. The cost is $6-8 per bundle, which should last 3-4 hours. The fire-pit also doubles as grill & make sure to bring charcoal if you're planning on barbecuing. OPEN FIRES IN DESIGNATED FIRE PITS ONLY!
Food & Beverage
You're responsible for bringing your own food & beverages for the duration of your stay. We take care of pretty much everything else. Your site comes fully stocked with an outdoor kitchen to cook & serve for your group. Your kitchen includes: kitchen table & 5-gallon drinking water dispenser (we fill it for you) propane camp-stove & kettle (we provide propane tank for your camp stove) pots, pans, plates & utensils for cooking & serving herbs & spices as well as tea, sugar, & hot chocolate mix & buckets for washing dishes
We have a few restaurants in the area that we highly recommend if you'd like to try our local cuisine. The Lake Cuyamaca Restaurant offers lakeview seating & delicious local plates such as our chicken pot pie & our famous Julian pie. They also offer a great selection of alcohol, locals ciders & craft beer. Pine House Cafe & Tavern is another great restaurant in the Mount Laguna region featuring artisanal food & craft beer. The historic town of Julian also provides numerous restaurants, wineries & breweries as well as many other tourist attractions.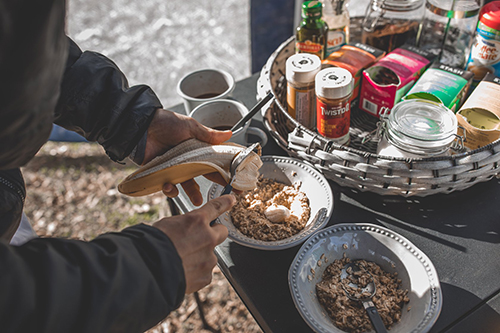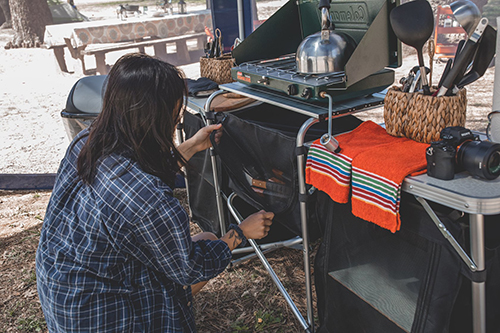 What You need to Bring
We provide just about everything you'll need during your glamping retreat, aside from food. We do provide water and some basic amenities such as; tea, coffee, sugar, hot chocolate, cooking oils & spices. All cookware and standard kitchen utensils provided. Towels, soap, and shampoo are also provided. Bring your cooler, food & personal toiletries.
Bring your own food & drinks. We provide drinking water.
It can get very cold at night in the winter months & we have the occasional summer storm. Bring an extra layer of clothes, heavy jacket & extra blanket.
Charcoals if you plan on barbecuing. Bring cash for wood & other activities. Most venues accept CC but you'll want to have cash on hand. ATM services are limited.
Bring a hat, sunscreen & chapstick, especially if you plan on hiking or being on the lake. Bring a refillable water bottle for hiking & days out.
Weather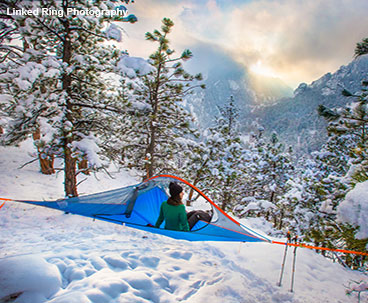 Weather is on average 10-15 degrees colder due to the higher altitude & temperatures can drop down to the 30's at night. Check the forecast & be prepared for potentially cold weather. Our accommodations withstands the elements well. Our tree tents are equipped with a rain fly that creates a great shelter from wind and rain. The bell tent is equipped with a propane heater. We strive for our sites to be warm and cozy in even the coldest winter nights up here.
Some of our sites allow fires in designated fire pits only and that's the ideal way to keep your group warm in the cold winter months. Please be aware that fire restrictions are in place sometimes especially when we get strong Santa Ana winds. We will inform you prior to arrival if that is the case.
Some of our sites don't allow open fires and we'll provide a propane powered fire pit instead.
The central mountain are the only place in San Diego that experience Snow in the winter months, from December - Feb. It's one of the many things that make this region so unique - four seasons including a white Christmas! It's a very special occasion and one of the reasons why many people choose to live up here.
Snow season also presents many problems with inexperienced drivers and visitors that can create very dangerous situations. These roads can be very treacherous if you're not being careful and come unprepared.
Directions
Directions to Laguna El/Prado Campground
take the 8 East towards until reaching exit 47 - Sunrise HWY
make a left into the Laguna Campground - Laguna Meadow Rd.
Directions to Burnt Rancheria Campground
take the 8 East until reaching exit 47 - Sunrise HWY. 
turn right onto Burnt Rancheria Cir.
Safety
We provide an emergency First Aid Kit at your site & give you a safety briefing upon arrival. These areas & featured activities are relatively safe, but you must be careful and take precautions. In case of serious emergencies we have team members stationed at our headquarters on North Peak 24/7. You can become easily winded at these higher elevations and it's important to drink plenty of water, which we provide. Stay on designated trails and it's best to wear pants and sturdy hiking boots.
Keep a safe distance from wild animals and never feed them.
Don't leave food ou
Drive carefully
Although the road up to the backcountry is very beautiful & scenic, it can also be very dangerous. The road is very windy. Drive carefully.